What Does FunnelFlux Do?
FunnelFlux is a platform to track your marketing campaigns - from Facebook, Google Adwords, Taboola, email activities or anything you can think of!
Create simple and complex visual journeys. You can track and analyse page visits, clicks and conversions (plus tons more!)
You can track users across multiple platforms too. Keep an eye on the real lifetime value of your advertising campaigns.
Who is Using FunnelFlux?
Performance Marketers
Create simple flows or complex journeys that other trackers struggle with, then analyze your data with in-depth reporting.
Blazing fast redirects
Industry-leading javascript tracking
Limitless reporting
Flexible funnels and flows
Useful integrations like The Optimizer, Clickbank, and TikTok + Facebook conversion APIs
LEARN MORE
Product Owners
Track your product sales journeys end-to-end, from traffic source through to emails and shopping platforms, while seeing the true ROI of your advertising.
Tracking without reliance on cookies or consent
Custom webhook integrations with Ecommerce and cart systems (soon!)
Track LTV across funnels and email sequences
Aggregate paid and organic traffic into one funnel design
LEARN MORE
Why Use FunnelFlux?
Building marketing flows is easy. Until it gets hard. But with FunnelFlux, we make the complex become a lot easier. That's why our customers love us.
Build with the visual funnel builder Use our visual funnel builder to craft journeys of any size, scope and scale. It's just like drawing on a whiteboard.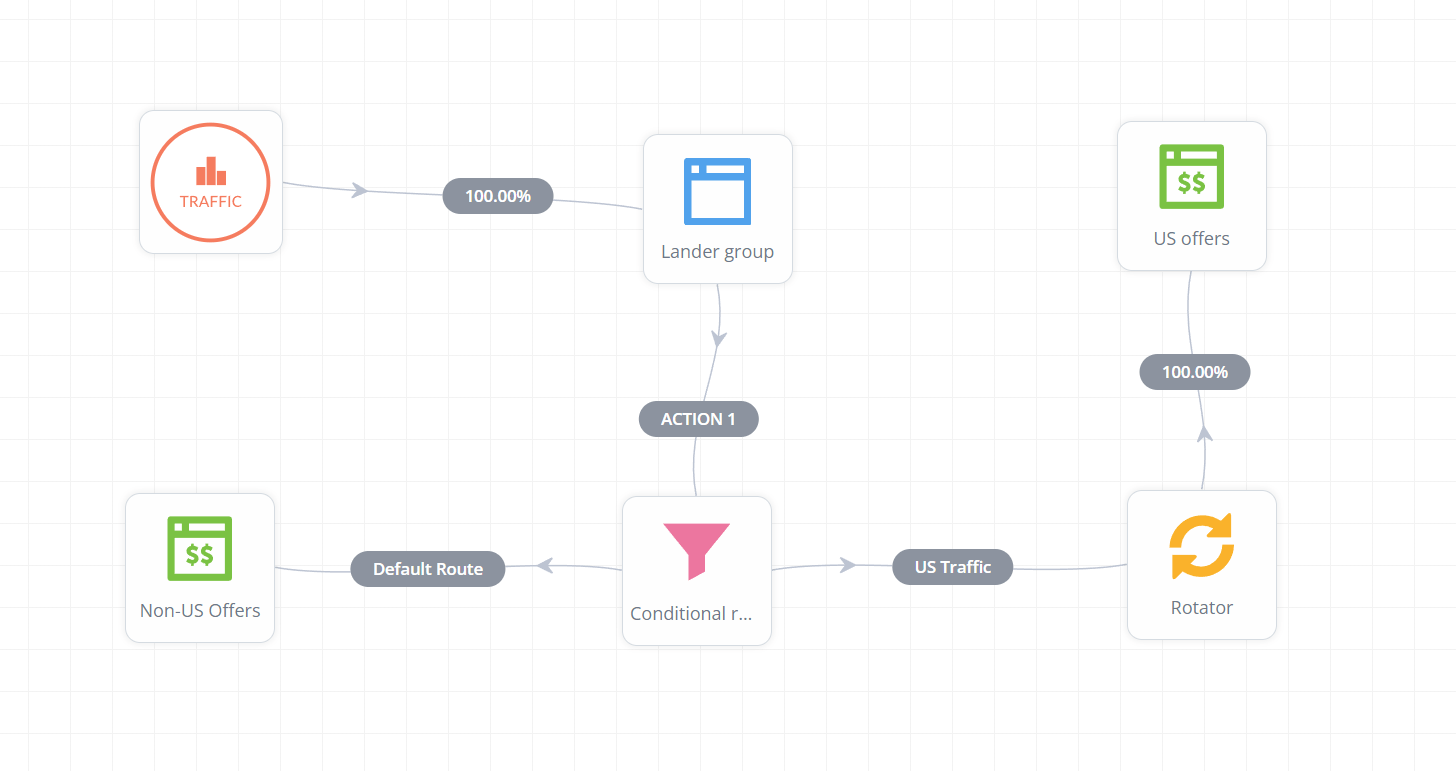 Analyze with our powerful reporting Our reporting is near limitless. Drill-down by as many attributes as you'd like. Use our visitor journey insights to follow the paths users' take and the ROI for each step of the journey.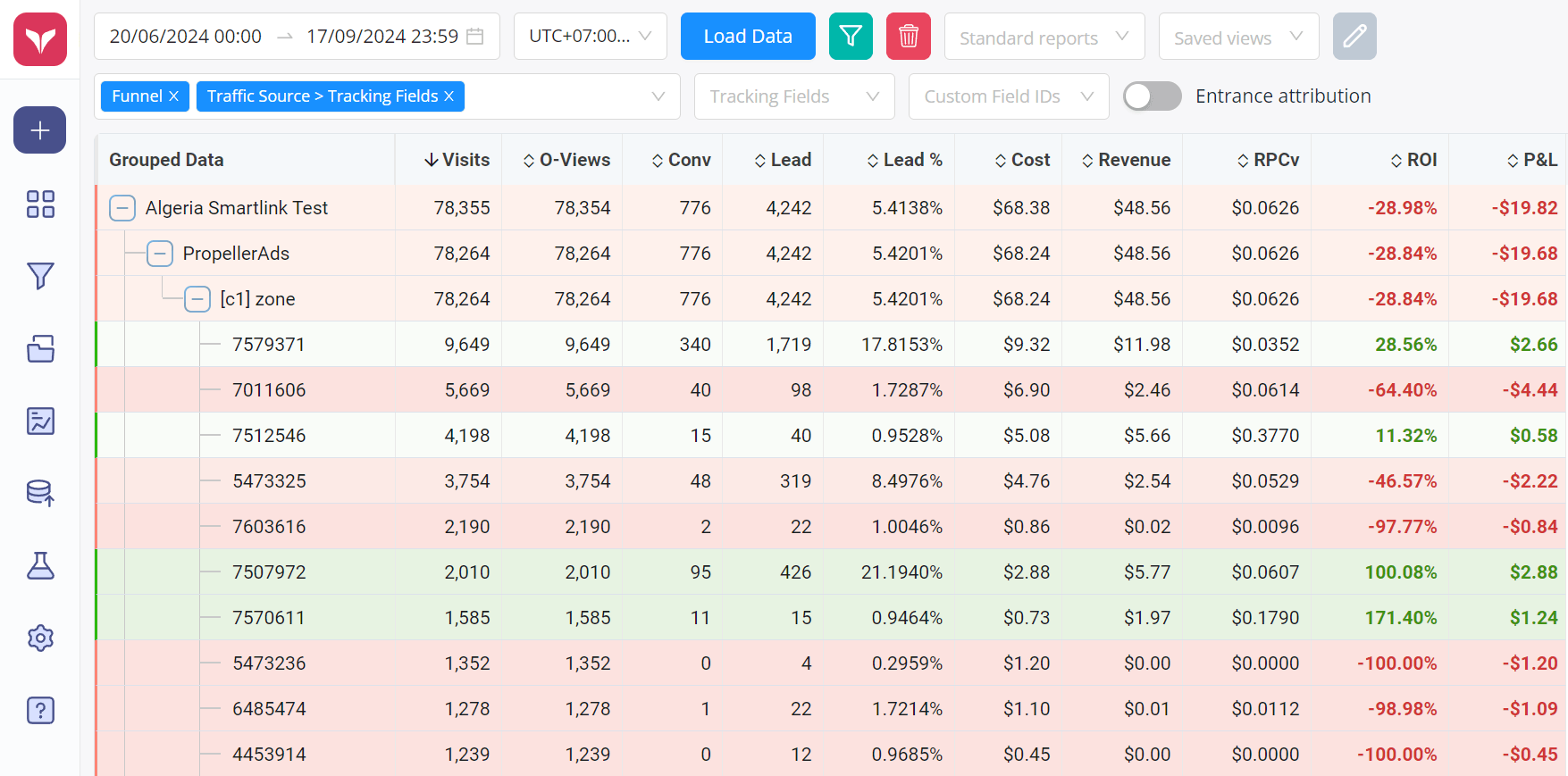 Integrate across multiple platforms All your favorite traffic sources, templated and ready to go. The most flexible and powerful integration systems of any tracker. Track users across multiple platforms and reconcile true lifetime value of your advertising.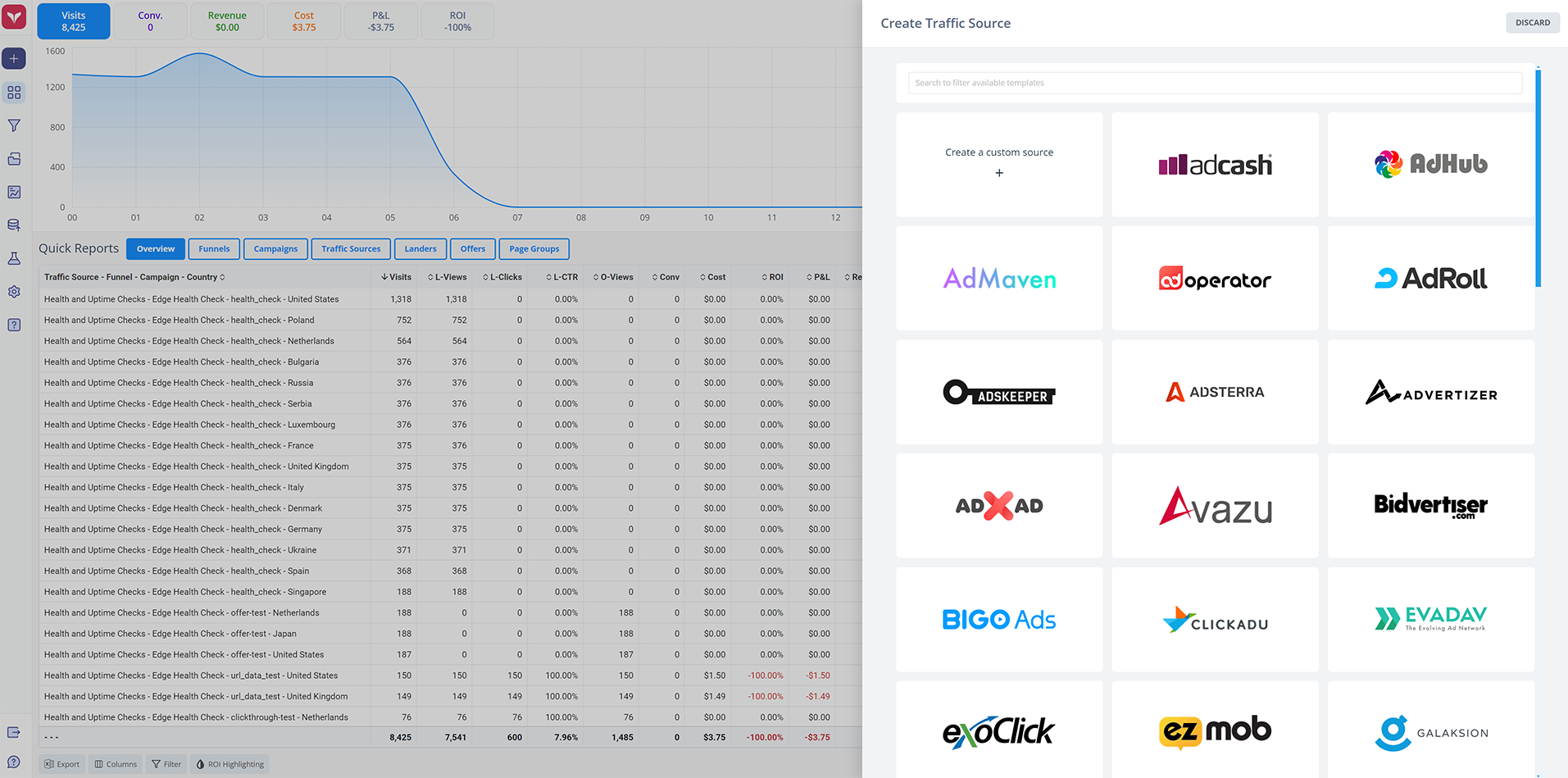 Ultra reliable S2S Integrations Can't load pixels on all your offers? We are constantly building server-to-server integrations for leading traffic sources, to make sure your conversions reliably get to where they need to be.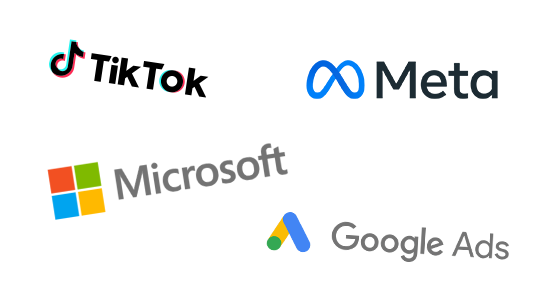 Leverage our experienced support team Need a complex scenario figured out? Our CEO will help you directly, and we know tracking better than anyone. You'll get clarity quickly.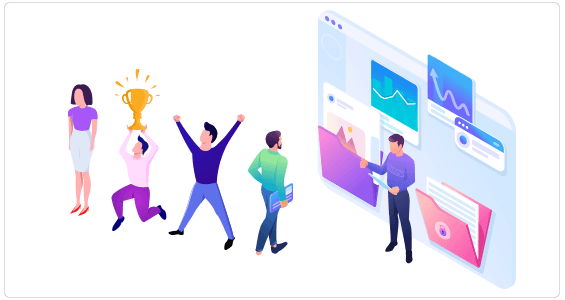 Our General Features
The Visual Builder
We are the ONLY marketing tracking tool aimed at performance marketers that provides visual, unrestricted building of funnels.

Blazing Fast Redirects
Our edge is ridiculously fast and geographically distributed. Our latency data is public. Our redirect speeds speak for themselves.

Limitless Reporting
Our reporting lets you group by almost anything and drill down with almost no limits. Group into 20 different levels, globally filtered by country? No problemo.
Next-gen Javascript Tracking
Our JS does the hard work for you, ensuring cookie-free and redirectless tracking that isn't broken by browser privacy standards. And it's packed with features too...

JavaScript API anyone?
All tracker data is available directly on your page with our JavaScript. No more passing device model or ISP in your URLs, get it directly from our JS with simple code.

S2S Integrations
Pass conversion data directly to TikTok, Facebook, Microsoft and Google Ads. Snapchat is in the works!

Exceptional Device Data
Industry-leading Device Data. Likewise, we use cutting-edge device detection libraries from 51Degrees.

Integration with the Optimizer
Running native, display, or pop traffic? You should be using The Optimizer. Automate 90% of your optimisation tasks via our direct integration.

Lifetime Value Tracking
Tracking media buying backing onto email sequences is hard. Not with FunnelFlux Pro. Connect the dots between funnels. across traffic sources and devices.
Webhook Nodes
Coming Soon! Build backend actions directly into funnels like pushing users to email systems, sending notifications or API requests. Think Zapier meets FunnelFlux.
And many other features…
Visual funnel building
Powerful, flexible reporting
Lightning-fast quick stats
Every metric you've ever wanted
No limits on funnel size/complexity
Redirect or Javascript tracking
Cookieless tracking made easy
Fast global redirects
High accuracy IP/Device data
Unlimited data retention

3

A beautiful user interface 😀
Risk-free trial
Testimonials
I've used nearly every tracking tool on the market and FunnelFlux is unlike anything else out there. If you are looking for a powerful tracking solution that is simple to use and easy to understand, then you have to try FunnelFlux.

Jerome Tremblay
Foresight Marketing Inc.
As someone coming from Google Analytics, Zeno has answered all my questions and helped me understand every aspect of server-side tracking on FunnelFlux. I successfully setup my first FunnelFlux campaign and I'm extremely impressed with all the features, the flexibility and the interface of this tracker. Furthermore, compared to other known trackers, FunnelFlux doesn't limit essential features in the entry price plan.

Jon Rinehart
Adlink Media
I've used nearly every tracking tool on the market and FunnelFlux is unlike anything else out there. If you are looking for a powerful tracking solution that is simple to use and easy to understand, then you have to try FunnelFlux.

Michael Gonzales
Co-founder @ Adsharemarket.com
I wholeheartedly agree with the claim that FunnelFlux is the "Best Funnel Tracker in the Universe!"
I have been an online entrepreneur for almost 20 years and have never witnessed a more powerful and sophisticated software that delivers your data with pinpoint accuracy along each and every node of your sales funnel.
FunnelFlux is a "Next Generation Must-Have Software" for performance marketers who want complete control over their advertising budget.
From the visual interface to the traffic & conversion heat maps, vital information is literally at your fingertips. My team and I are so impressed with FunnelFlux that we have decided to migrate or should I say "Flux" all of our existing campaigns!

Dan Iavorszky
Marketing Manager @ Localweb
FunnelFlux is magic!
I can now test, analyze and optimize a variety of campaign types in no time. Also building them, with the help of the visual builder is a dream come true.
And did i mention the gorgeous support they are offering? FunnelFlux is about making you money. Serious money. Worth every single penny, without any doubt.

Stephen Crooks
Online Entrepreneur
If you have struggled with other tracking products where you need a degree just to install it, then FunnelFlux will be a revelation to you.
Its simplicity is just a part of its power, because hiding under its sleek and slick interface is an engine that could power a journey to Mars and back.
With features you have only ever dreamed about up until now. Within milliseconds of sending traffic through my funnel, I was able to determine where that person lives, where they ended up in my funnel, what device they were using, how long they spent in my funnel.
Even the size of the display they were using and that was just a mere scratch on the surface of what FunnelFlux delivers!

Carl Vanderpal
Carlvanderpal.com
For me, it's crucial to maintain a profitable marketing & sales funnel for my clients and myself. Over the years I have used various testing, tracking, and variant software and sites, to identify what is converting and what is not.
Of course they had their pros, but they never really gave me the ability to drill down to a granular level to find out intricate details of the visitor, nor did they give me the ability to create a sales tracking funnel to this sort of degree and flexibility, and that is only the tip of the iceberg with this groundbreaking software.
Take it from my 20 years of online experience, if you're remotely serious about marketing online, you'll want this set of tools in your arsenal before you launch any campaign.
Not only that, I have worked with Vita on various other projects for close to 5 years and he is certainly someone I know will ALWAYS over-deliver on his promises -- this software is no exception.

Lloyd Adams
Online Marketer
Instantly I noticed that FunnelFlux was very easy to install and initialize traffic sources, affiliate networks, and offers for your campaigns.
Setting up sub IDs is so easy, it's night and day compared to the competition. Absolutely no hassle.
The stats are very straightforward and you can see instantly what is, and is not working with the new heat map feature. It's really cool!
I think you're really going to love the visual construction of your campaign funnels, because you can easily construct landing pages, rotators, e-mail campaigns, and anything complex you can think of extremely fast with a click of a button.
Using FunnelFlux is a joy. Overall I think you're going to love FunnelFlux's ease of use and fast, "know what's going on with your campaigns" operation.

Trin
Online Marketer
There's an old saying, "What gets measured gets managed." FunnelFlux takes that saying and puts it on steroids.
I can't believe how much faster I'm able to build my sales funnels using FunnelFlux. I love that it's self-hosted (I'd NEVER trust a company to host my tracking solution), runs incredibly fast no matter how many clicks you throw at it, and runs great on a cheap VPS.
Did I mention it has easy, visual split-testing capability BUILT-IN? FunnelFlux is so simple to use I think even complete noobs could quickly become very profitable with it. Thanks, FunnelFlux... You've raised the funnel tracking bar very high indeed.
Pricing
One simple plan. Industry-leading overages. No data retention limits. Easy.
Every plan starts with a 14-DAY risk-free trial. You can cancel at any time.
Payment Methods Accepted

1 — Events cover all tracking requests and internal events that create/store data in our system, such as visits, clicks, condition and rotator node visits, conversions, and custom events. Billable events are calculated daily and billed in $0.01 increments.
2 — Users must provide their own custom domains to use FunnelFlux. The first two are free, and domains after this are billed at $2 each per month. Domains can be added/removed at any time.
3 — Unlimited retention while a subscription is active. When no active subscription exists, data will be deleted after 60 days unless a user opts for our standby plan of $9/mo to retain data. We reserve the right to increase the cost of this standby plan in the case of users who may have extremely large amounts of data.
Note: a valid billing method is needed for all trial signups. We require this so that we know who our customer is and to reduce fraud rates. If you have issues with payment, please click HERE to contact our support team.
For payments with WeChatPay or Alipay, please contact support HERE to create a payment request.
Start Your Free Trial
Get started for free today - just answer a few quick questions to help us better understand you as a customer.
Note - a valid payment method is required to start free trials